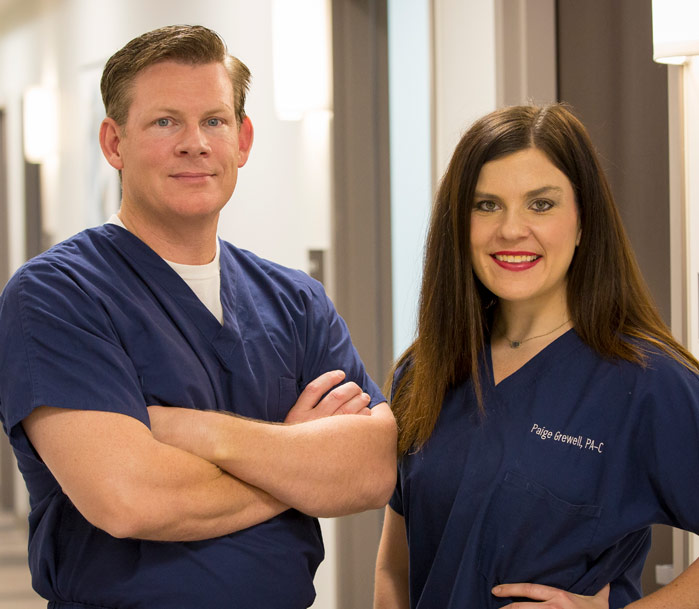 Get Your Skin Examined
Chances are you've thought about getting your skin checked – but then a million other things happened and you never made an appointment. Unfortunately, you might not think about it again until you A) meet someone who tells you that they just found out they had skin cancer, or B) notice that you have something odd on your skin. Let's be honest… we're not going to judge you for not having your annual skin check-up – but it's time!
Just so you know, The Skin Cancer Foundation recommends that all adults see a doctor every year for a professional skin exam (and more often if you've had skin cancer before or are at high risk for it). If you can see a dermatology specialist, that's even better, since they're specially trained and have lots of experience in spotting skin cancers. The fact is, almost 100% of skin cancer is curable if it is caught in the beginning stages. That means the early you find it – and have it evaluated – the less likely you are to experience any side effects whatsoever.
Paige Beverly, PA-C at the Skin Surgery Center of Oklahoma says that she recommends planning a skin check around a life event that's easy to remember. "Have your birthday suit checked around your birthday, " she laughed.
Paige added that your annual skin check is generally covered by your insurance, but if you have questions, her office can help. "We're happy to make a quick call to the insurance company to check benefits so that a patient knows their out of pocket expense. We want to make sure it's an easy process for everyone," says Paige.
Let's Talk About Your Skin
Before you see your doctor, check yourself out. Do a skin self-exam and take inventory of any spots that seem unusual, new, changing or irritated. (You can grab a hand mirror or a partner for help). Trust your instincts, and when you see the doctor, point out any areas of concern.
Remove polish from fingernails and toenails before your appointment, as skin cancers can appear in nail beds. It's best to go without makeup, too, or wash it off at the doctor's office.
Don't be nervous about meeting with your skin specialist. The exam is quick and easy. You may be lying down or sitting, and you'll be mostly covered with a gown or cloth, which the specialist will fold back briefly in each area being checked.
If the specialist sees a suspicious spot, they may want to do a biopsy. This usually means scraping part of the lesion and sending it to a lab for analysis. This generally only takes a few minutes and you will barely feel it. The report will come back in about a week and will determine the next course of action.
Remember that early detection of skin cancer is the best way to beat the odds. Get checked every year and take precautions to keep your skin safe.
Schedule an Appointment
Dr. Brandon Rhinehart and the team at Skin Surgery Center of Oklahoma are dedicated to providing the highest level of skin cancer care for Oklahoma City, Edmond, Norman and surrounding communities.
Contact Us