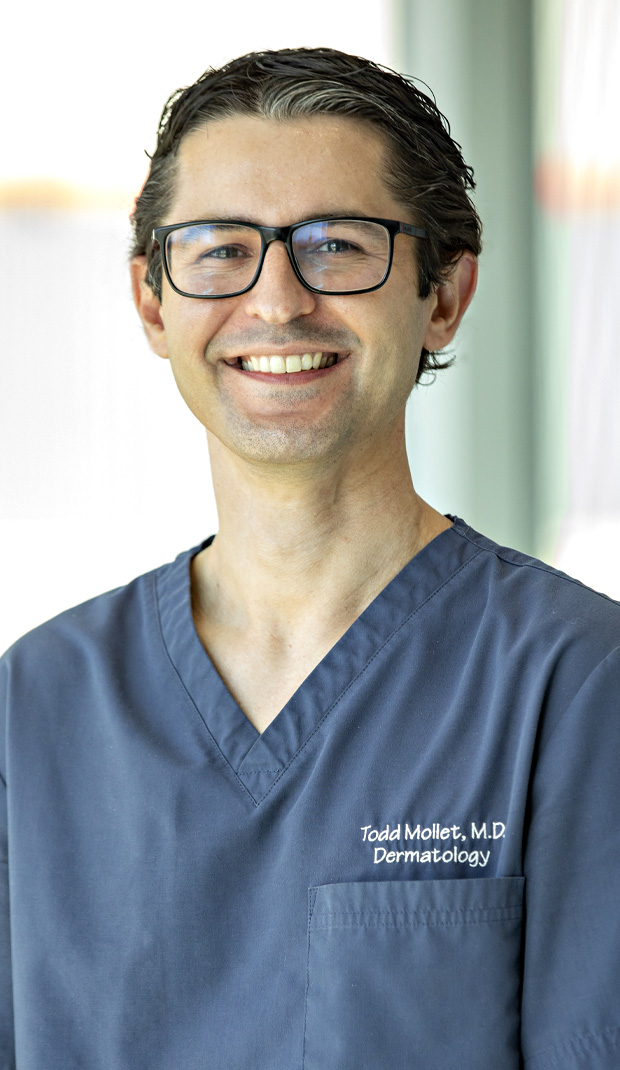 Todd Mollet, MD, FACMS
Dermatologist & Mohs Surgeon
Undergraduate
Oklahoma State University
Medical School and Dermatology Residency
University of Oklahoma
Micrographic Surgery & Dermatologic Oncology Fellowship
University of Texas Southwestern Medical Center
Board Certification
American Board of Dermatology
Micrographic Dermatologic Surgery
About Dr. Mollet
Todd Mollet, M.D. dedicates his practice to patients with skin cancer. He is one of the few fellowship-trained Mohs surgery and reconstructive surgeons in Oklahoma. He believes that an excellent bedside manner, extensive medical knowledge, and a meticulous surgical technique are the most important qualities in a top-tier dermatologic surgeon and cutaneous oncologist. He always spends extra time to give a patient the best result possible. When caring for patients, he enjoys talking with them about where they are from, their family, and what they enjoy doing. Since 2010, Dr. Mollet has treated thousands of skin cancer patients. He joined Skin Surgery Center of Oklahoma as a partner in 2021.
Dr. Mollet grew up in Yukon, Oklahoma. He graduated summa cum laude from Oklahoma State University. He then graduated with special distinction from the University of Oklahoma College of Medicine. After completing dermatology residency at the University of Oklahoma, he completed an intensive fellowship in Mohs micrographic surgery and dermatologic oncology at the University of Texas Southwestern Medical Center. Dr. Mollet has always enjoyed academics and continues to teach OU dermatology residents by leading a regular dermatologic surgery journal club.
Outside of the office, Dr. Mollet enjoys living life with his beautiful wife, son, and daughter. Those 3 really keep him smiling. He loves spending time outdoors hiking, fishing in a pond, or hunting on his family's farm in Western Oklahoma. He also enjoys sports including the Oklahoma State Cowboys and Oklahoma City Thunder. Although he greatly appreciates OU and UT for his professional education, he still bleeds America's Brightest Orange.